MULTI-BRAND
STORE IN MILAN
Iconic concept store located in Brera district - Milan. Since 1990 Clan Upstairs has been a progressive retail concept, which includes a cozy cafe and a hidden courtyard.
It is recognized for its authentic and alternative touch in the selection of emerging labels and established brands. Thanks to the constant update and research Clan Upstairs boasts a strong Brands Edit.
Clan Upstairs is a place where the attention is not only focused on the customer's shopping experience. It is about going beyond the selection of products, offering a multitude of engaging contents and events, presenting its own interpretation of contemporaneity.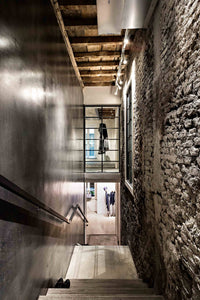 CLAN UPSTAIRS
COMMUNICATION STUDIO
It's a creative concept based on several know-how in the fashion industry, with the aim to support interesting brands, creating a multitude of innovative communication and content projects and engaging events. A lively hub, with a forward-thinking approach, which is able to create unique collaborations for both customers and brands as well as strengthen the shopping experience.